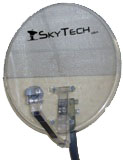 SkyTech Clear Dish is Here Now!










SkyTech 270

Premium

Model: SkyTech 270 Premium

The SkyTech 270 Premium satellite receiver provides digital free-to-air FTA satellite reception.

The receiver's POWER SCAN feature provides a Blind Search function enabling the user to find all broadcasting channels transmitting from the satellite. All other features of the receiver are the same as the original Lifetime receiver.

The SkyTech 270 Premium receiver is fully MPEG2/DVB compliant, supports multi-languages, and has an easy to use menu system. The intuitive On-Screen Display (OSD) allows for quick channel searching capabilities. With the ability to move, delete, and re-name channel or satellite information, it's simple to reorganize your channels the way you want them.

In North America, the Lifetime receiver provides Dolby Digital audio (AC-3) for the PBS channels broadcast on the AMC 3 satellite.
Digital Free-to-Air Satellite Receiver with Smart Search
5,000 Channel Memory (TV & Radio)
Store up to 5 Favorite Channel Lists
Dolby Digital Audio Out and S-Video (North American model)
FEATURES:

FREE TO AIR
MPEG-2
SMART SEARCH
UHF/IR READY
SAT KEY
DIGITAL AUDIO OUT
100 SAT, 5000 CH
UNIVERSAL REMOTE READY







SkyTech 270 Premium

• EPG (Electronic Program Guide)

• Full Compliant of MPEG-2 Digital & DVB broadcasting

• 950-2,150 MHz input Frequency (IF Loop Throughout)

• Variable Input Symbol Rate (1-45 Msps)

• Multi Language OSD

• Automatic PAL/NTSC Conversion

• Fast Channel Change

• 5,000 Channels TV & Radio Program

• Universal Remote Ready

• Flexible reception of SCPC & MCPC from C/Ku-Band Satellites

• S/PDIF (Digital Audio or Dolby AC3 Stream out)

• Timer Function (Automatic Turn On/Off by Setting Function)

• 256 Colors (Graphic User Interface) Number

• PIG (Picture In Graphic)

• 5 Favorite List & Unlimited Programs per each

• Powerful Channel Editing Function
- Sorting : Alphabetic, Satellite, FTA/Scramble, Parental Lock
- Move, Delete, Favorite Edit
- Parental Lock, Channel Rename, Channel Skip

• Manual PID / Satellite & TP / Network Scan

• Smart Search

• Satellite Scan – Simultaneous Scan with 4 Satellites

• DiSEqC 1.3 Control Compatible (STAB USALS)

• Capable of Setting the Frequency for SMATV System

• Software Upgrade via RS-232C (Receiver to Receiver, PC to Receiver)
Tuner (Smart Search) / LNB
2 Input Connector F-type
IEC 169-24
IF Input Frequency
950MHz to 2150MHz
IF Loop Throughout
950MHz to 2150MHz
IF Frequency
Zero-IF
Input Level
-65 dBm~ -25dBm
LNB Power
13/18V DC
500mA Max
DiSEqC Control
Version 1.3 Compatible
Band Switching
22KHz Tone
Demodulation
QPSK
System Rate
1~45 Msps (SCPC, MCPC)
Viterbi Decoding Rate
1/2, 2/3, 3/4, 5/6, 7/8
Reed Solomon Decoding
FEC 204, 188. t=8
DiSEqC
1.3 Compatible
(STAB USALS)

DATA PORT
Connector
9 Pin D-Sub Female
Data Rate
Max. 19.2 Kbps
Protocol
RS 232 Asynchronous

RF Modulator
Connector
IEC 169-24
Male / Female
Frequency
CH 3 (61.25MHz)
CH4 (67.25 MHz)
Output Channel
CH 3-4
TV Standard
NTSC
Preset Channel
CH3, Changeable by Menu Screen

Front Panel
4 Digits LED Display
Channel Number Display
3 Keys
Power, Channel Up/Down

MPEG Transport Stream & A/V Decoding
Demultiplex
According to ISO/IEC
13818-1
Input Stream
Max. 90 Mbit / s
Aspect Ratio
4:3, 16:9
Video Resolution
720 x 576
Audio Decoding
MPEG layer I and II
Audio Mode
Single/Dual Channel,
Stereo, Joint Stereo
Sampling Frequency
16/22,05/24/32/44,1/48 khz
Dual Channel,

Rear Panel
IF Input
F-type Connector
IF Loopthrough output
F-type Connector
4 Phone (Cinch)
Video, Audio L, Audio R, S/PDIF
Skew
3 Push Terminal (5V, GND, PULSE)
S-VHS

Microprocessor & Memories

Remote Control (Universal Remote Ready)
Type
Infra-red (carrier Freq: 38KHz)

Main Processor
Sti 5518 BVB, ST20 32bit
CPU Clock
81MHz(100 MIPS)
Flash Memory
2 Mbyte
SDRAM
8 Mbyte

Others
Input Voltage
AC 90~250V, 50/60 Hz
Power Consumption
Max. 55W
Standby Power
Less than 5W
Dimension
290 x 200 x 65mm
Weight
2.1 Kg

EEPROM
32 Kbit

Modulator
RS232 Serial Port
9 Pin D-sub Type